Albert Pellaton was technical director of IWC Schaffhausen from 144 until 1966. He oversaw many technical innovations for example a hand wound calibre 89 for the military watch Mark XI and the development of a new and more robust barrel by using aluminium oxide. His best-known innovation, however, is Pellaton's automatic system, which was introduced in 1950 with calibre 85 and has been constantly improved up to calibre 8541. In 2000, the automatic system was rediscovered for the calibre 5000 family and was named after this famous Swiss horologist.
IWC automatic: Image from an old IWC Fournituren catalogue
The IWC Automatic comes with patent-registered shock protection of the rotor oscillation weight and presents the first watch with the function to switch off its automatic mechanism at once. This device offers the advantage that the automatic system does not have to be removed during mending of the watch (e.g. for replacing the main spring or removing the balance-wheel or escapement)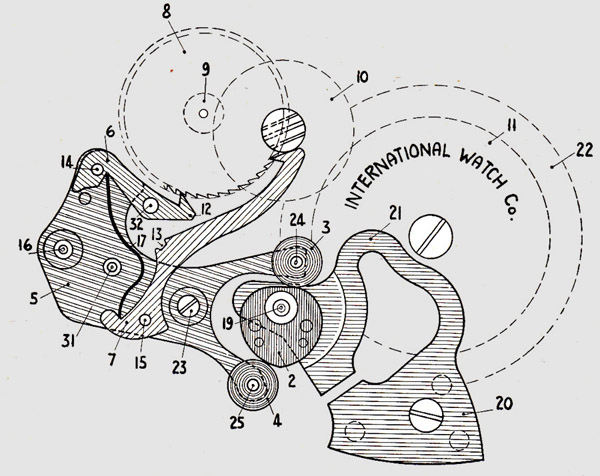 Function:
Latch (6) is reset with the hole until the head (12) clicks into the notch of the latch. Now the mainspring can be unwound to remove the barrel. In the same way balance-wheel and escapement are easily accessible.
As soon as mending is finished, and the rotor starts moving again, both latches (6) and (7) will catch back automatically into the automatic wheel (8).
This innovative construction saves a lot of time during mending. To remove the rotor weight the screw of the forked locking bolt, located near the centre of the rotor, must be loosened half a turn and the bolt pulled out. Next the movement must be turned over and the rotor drops out.